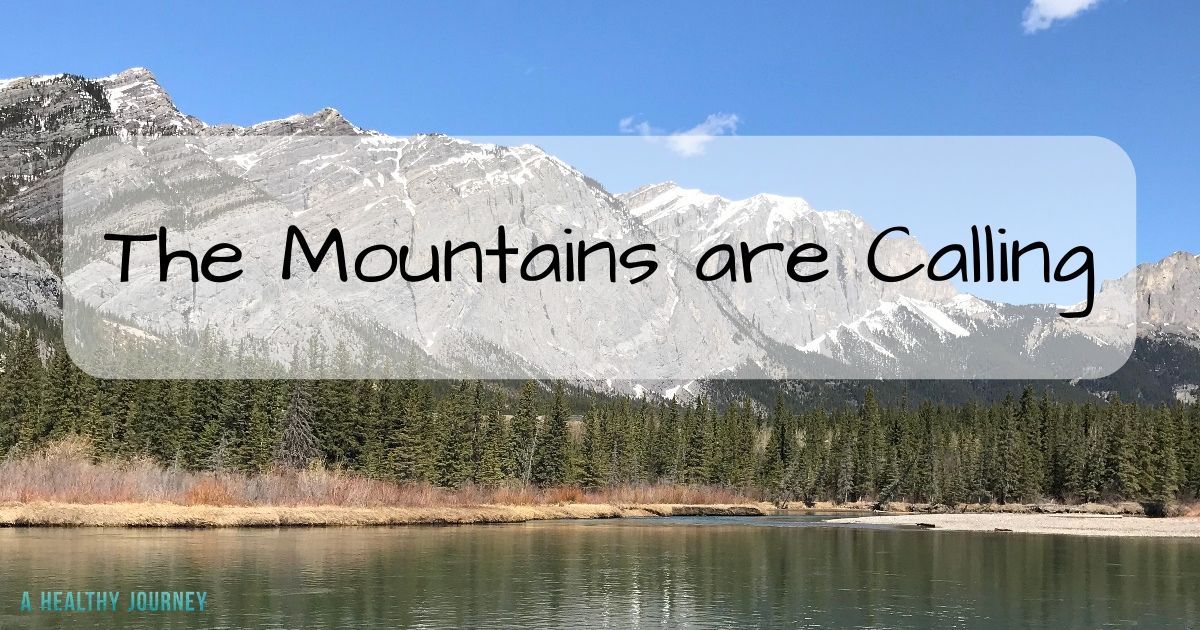 It's really happening! One week from today we will be driving a U-haul to our dream town. It's a place we frequent often on weekends but have never seriously considered moving to.
We are being called to PLAY more in the beloved Rocky Mountains, specifically Canmore, Alberta.
Ever since I was a kid the mountains have felt special to me. I can vividly remember driving through the Rockies with my family on our way to British Columbia for summer vacations. The mountains loomed large and were spectacularly beautiful. I felt so small but yet connected to something so ancient and stunning.
My childhood was split between the geography of north western Alberta and the prairies of central Alberta. The mountains were exotic to me. They represented ruggedness, adventure and vacation. I never thought I would get a chance to live in the Rockies.
Anytime I've traveled abroad I've tried to find mountains to hike. I love hiking. When I lived in Japan hiking Mt. Fuji was a must and in South Korea it was a running race over Seoraksan. My trip to Australia wouldn't have been complete without a visit to the Blue Mountains.
Whenever I've lived somewhere without mountains nearby, I felt an unexplainable call to seek them out. This is probably why I chose to move to Calgary after completing University in Edmonton. The mountains are only an hour's drive but still a drive. I've never been a fan of road trips and have loathed a long commute.
You might be wondering what prompted us to make our move now. If COVID-19 has brought our family one blessing, it's been time to reflect on why we live where we do. Many of us feel forced to live where the work is. My work is mostly on-line and so is my husband's. Thank you, pandemic.
We were also given time to explore where we would love to live if we could live anywhere. Were we ocean or mountain people? Both are beautiful but we chose the mountains for our next adventure.
I would be remiss if I didn't mention how ENVY factored into our decision to move. I know we aren't supposed to compare ourselves to others but we are only human. Maybe I could spin my envy into inspiration? Actually, I can because I believe that envy isn't ugly because it can show us what we really want but are too afraid to admit.
I follow a fellow life coach and kindred spirit on-line, who happened to live in a small town near Calgary. In May she announced that she was moving to moving to Salt Spring Island, BC in June with her partner and their gaggle of children.
What?!!! 
Salt Spring Island is a dreamy place on the west coast where amazing artists and homesteaders live. We've been there twice and are always blown away by the natural beauty and the farmer's market. 
You can live somewhere that blows your socks off?
YES, YOU CAN!
What seems impossible is possible.
It's called dreaming big and going for it, even before you're ready.
It's really about TRUST.
Have you ever noticed that things always tend to work out? This is not the same as "everything happens for a reason". I just want to make that clear.
As I type this message to you, I'm surrounded by our belongings half in boxes. Another layer of "stuff" is being shed. Our simplicity journey continues.
I feel excited for my family's next chapter in a new town and sad for the friends I'm leaving behind. Knowing that we are only an hour away does bring me comfort. There will still be trips "to the city" for appointments and amenities that a small town doesn't have.
It's been a long time since I've lived outside of city. I'm looking forward to spending more time outside and finding my groove in our new home.
Wishing you all the ease, joy and freedom!
Anastasia Hendryanto
Life Design Coach and Enneagram Teacher