Wild Salmon Burgers (Gluten-free, Paleo)
Most families are not eating fish on a regular basis. I know we aren't. The current dietary  recommendation for fish consumption is twice a week.
Here's an easy and delicious baked burger recipe that uses canned wild salmon.
I like the brand RainCoast Trading because it is wild, caught in the Pacific Northwest and can be found at many grocery stores.
These salmon burgers are perfect for the night before you need to get groceries and your fridge is almost empty except for some eggs and less than crisp vegetables.
Most of the ingredients for the burgers can be found in a well-stocked pantry.
A well-stocked pantry is a must for families that want to throw together a simple and delicious meal on a busy night without having to run to the grocery store.
I keep a pantry list taped on the inside of the door so I always know what I have. Depending on the layout of your pantry it can be difficult to see all the items. If anything is missing I add it immediately to my grocery list.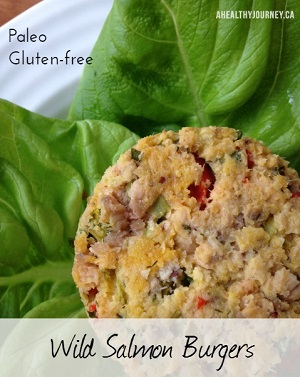 I also like to have a few pantry based recipes like Wild Salmon Burgers, handy for the end of the week when my fridge is almost empty.

This week I'm working on a brand new printable resource that I'm calling "Pantry List Essentials," and some easy recipes made from pantry items.
You'll be able to download this time-saving free tool next week so stay tuned.
You'll never be stuck for dinner ideas when there appears to be nothing to eat in the house.
What's your favourite pantry based meal or recipe? I'm always looking to add to my collection.

burgers, fish, salmon, wild salmon
Preheat your oven to 375 F and line a cookie sheet with parchment paper.

Combine all of the ingredients together in a large bowl and mix until well combined. If the canned salmon has bones, crush them with a fork.

Using a ½ cup measuring cup, scoop out the mixture and place on a cookie sheet lined with parchment paper.

Bake the burgers for about 23 minutes or until they start to turn slightly golden brown.
Serve the burgers with some veggies sticks and dip. I like to use butter lettuce to wrap the burger instead of using a bun.