Personal Note From Anastasia:
Okay, I think it's safe to say that Fall is officially over. This picture was taken on a beautiful fall morning in Fernie, B.C. The beautiful fall colors and the crunch of leaves under my runners are what I remember the most of that day. I was running a half-marathon with my good friend Katie Morgan. It's a tradition of mine to run a half-marathon every fall with someone fun. Speaking of traditions, I wanted to share with you my cool weather Sunday soup making tradition. Enjoy!
Soul Satisfying Clean-Out-Your-Fridge-Soup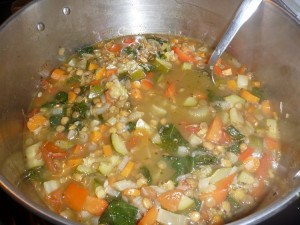 It was a Sunday afternoon and I was taking an inventory of what was left in the vegetable crisper. Grocery shopping day is usually Mondays for us so I wanted to make sure we had used up all the vegetables from the week before. I hate wasting good quality food. It turned out that we actually had some vegetables left that were not in tip top shape so I decided to make a big pot of yummy soup. Now that the cold weather has set in, soup is the perfect replacement for our green leafy summer salads.
Feel free to substitute different vegetables than the ones I used. I threw in some lentils to make the soup heartier. Lentils are full of fibre and a vegetarian source of protein. They have a really mild flavour and add a wonderful texture to the soup.
1 tablespoon olive oil
1 medium diced onion
2 garlic cloves minced
2 teaspoons dried thyme
½ teaspoon sea salt
couple pinches of black pepper
1 cup of diced carrots
1 cup of diced celery
2 diced tomatoes
6 cups of vegetable broth
1 cup of brown or green lentils, rinsed
1 head of kale chopped
Heat the olive oil in a large soup pot and sauté the onion until softened. Add the garlic, spices, carrots and celery. Saute for 5 minutes. Now add the rest of the ingredients except for the kale. Bring to a boil and let simmer for about 40 minutes, until the lentils are cooked. Add the chopped kale and let it wilt for a few minutes.