Smoothie Controversy
Smoothies are controversial depending on which food camp you hang out in. As you know, I have my feet firmly planted in the real food camp so smoothies can make a quick and nutritious breakfast. I do have 3 things to caution you about before you blend up your next smoothie.
Protein Powder
Personally, I don't consider protein powder a real food because it has been processed so much. I prefer to eat food as close to its whole source as possible to maximize the nutrient content. Read the ingredient list on some protein powder and see if you can identify what's in it. Watch out for sugar, artificial sweeteners and preservatives.
I prefer to add hemp hearts and chia seeds to my smoothies for some protein, good fat and fibre. Be aware that hemp hearts and chia seeds are not going to give you as much protein as a scoop of protein powder. Some of us need a substantial serving of protein in the morning to keep our blood sugar levels stable so smoothies wouldn't be the best choice. You might use a smoothie as a snack or eat a couple of boiled eggs before your smoothie.
Sugar Content
Smoothies can be high in sugar if the main ingredient is fruit. Fruit is very nutritious but be mindful of how many servings of fruit you have in your smoothie cup. Balance out the sweet fruit with greens like kale, spinach and swiss chard and don't forget to add some good fat (avocadoes, coconut oil or spread) and protein.
Drinking Your Food
This is a personal preference but I like to chew my food. I find that if I drink my meals it doesn't feel like I've eaten. Chewing your food sends a signal to your body that you are eating and will soon be feeling full and satisfied. Pay attention to how you feel after consuming a smoothie. Everyone is different.
My favourite kind of smoothie to have as mid-morning snack or before a workout is a green smoothie. I've included the recipe for you but feel free to substitute different fruits and greens depending on what you have on hand.
If you are ready to add more REAL FOOD into your life, I invite you to check out my new program, "The 21 Day Real Food Reset."
This program is designed for busy moms that are exhausted and want to get their energy back. End the confusion over conflicting nutrition advice, get organized and start looking and feeling fabulous.
For all the details and to register click here.
If you have any questions about nutrition or the 21 Day Real Food Reset, please email or give me a call (403-542-6880). I would love to hear from you!

breakfast, greens, smoothie, snacks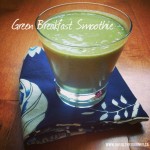 by Anastasia at ahealthyjourney.ca
Servings

Prep Time

2

glasses

3

min.
Servings

Prep Time

2

glasses

3

min.
by Anastasia at ahealthyjourney.ca

Servings

Prep Time

2

glasses

3

min.

Servings

Prep Time

2

glasses

3

min.
Place all of the above ingredients into your blender and blend until smooth.