Easy Skillet Meals and Recipes (Winter Edition)
I'm a huge fan of skillet meals because they are quick, budget-friendly and incredibly nutritious! We always have a skillet meal on our meal plan every week.
Skillet meals can be made in 30 minutes or less depending on how fast you can chop. They don't produce a lot of dirty dishes so you are spending less time in the kitchen too.
If you use ground meat and seasonal vegetables, skillet meals are easy on the budget. Since it's winter at the time of writing this post, look for beets, carrots, parsnips, sweet potatoes, potatoes, onions, butternut and acorn squash.
Skillets meals are nutritionally balanced because they contain protein and fat from the meat and fibre rich carbohydrates from the vegetables. You are also getting a wide range of vitamins and minerals from the meat and seasonal vegetables.
I've created a short video that shows you how to make a quick skillet meal.
Don't worry about taking notes because I also have a printable Mix and Match Skillet Meal Chart that includes the recipe and virtually endless possible combinations.
Sign up below this post to get access to the "How to" video and your printable Mix and Match Skillet Meals Chart & recipes.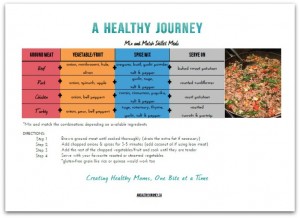 ground meat, meal planning, printable plan, recipes, skillet