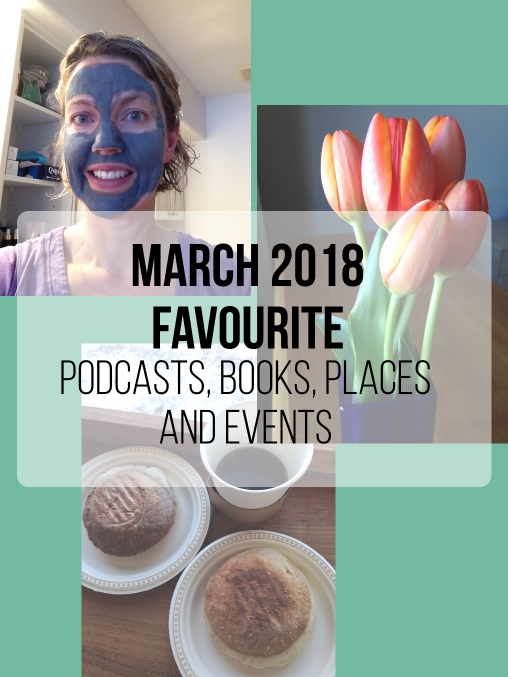 March 2018 – Favourite Podcasts, Books, Places, Events
March has been a bit of a roller coaster ride. I've been struggling with what to write and share with you this month. It's time to revisit my "Why" again. I started writing again because I was craving a creative outlet AND wanted to be of service to you. I assume you read what I put out because you are a kindred spirit and are on your own healthy journey.
It feels good to share my observations along with resources that are making me a happier and healthier human. So on that note, here's a summary of what's made my soul sing in March and what I've got planned for April.
Favourite Podcasts
By The Book – Podcasters Kristen and Jalenta showcases popular self-help books and actually follow their instructions and report back after 2 weeks. These two women do not take themselves too seriously so there is a lot of laughter along with honest, no B.S. book reviews. Full disclosure: I love reading self-help books but there are some that give really bad/unsafe advice.
Oprah's Super Soul Conversations – If you are like me and grew up on Oprah, this podcast will not disappoint. She interviews a wide variety of guests on the topic of spirituality and issues that really matter.
Favourite Blogs/Books
Design for Mankind – Erin Loechner wrote the book Chasing Slow, which I read and loved. She shares everyday observations of her life as a mom, wife and writer. Her observations encourage me to slow down and notice that beauty is all around.
Be More With Less – Courtney Carver has also written a book, "Soulful Simplicity", which I ordered this week because getting it from our public library is taking too long. She writes about simple living and minimalism topics like capsule wardrobe and decluttering. Her angle is "Simplicity is the way back to love."
Favourite Recipes.
I usually try a new recipe once or twice a week and I've been sharing them on Facebook . Like and follow my Facebook Business Page and you'll see what we are eating at my house. This month I've shared recipes for soups, waffles and muffins.
New Places Visited
Morning Workouts at Fit Republic – I've just signed up for a 2 week trial membership at a boutique fitness studio in Bridgeland. They offer a wide variety of classes including Barre and Barbells which I can't wait to try. Yes, they offer SPIN but you won't be seeing me in those classes. A big reason I signed up is because they have 6am classes. Love my morning workouts!
Bruhe – Leo and I visited this former Dairy Bar turned purveyor of bone broth, kombucha, butter coffee and gluten free baked goods. We stopped in for a delicious and nourishing lunch of grilled cheese on sourdough with a cup of bone broth. I took a slice of strawberry rhubarb pie "to go". Amazing! This café is owned by the lovely Andrea Beaubrun and her husband who are Naturopathic Doctors in the clinic next door.
Favourite Beauty Products
No. 3 Balancing+Charcoal Facial Mask.  I've got mature skin/combination skin so I do get the occasional pimple. I use this mask weekly to deep clean my skin without drying it out. It's made with kaolin clay and charcoal. If you want to know how to get your hands on a free tube, message me for details. I love Beautycounter products because they are effective, luxurious and have been 3rd party tested for safety.
What's coming up in April
Training for trail running season. I've signed up for the 5 Peaks series and plan to do a few MEC races as well. This will get me into nature and allows me to share my love for trail running with Leo. We try to make the races a family event. Would love to see you at a race. I'm always looking for training partners too…
Beautycounter is coming to Calgary!
Beautycounter is hosting a free event at Market on 17th Ave on April 16th at 7pm. If you would like to be my guest, message me and I'll give you the details.
Beautycounter doesn't hold many events out west so this is a great opportunity to meet the Regional Director and learn about the company and its mission. Got questions? I would love to answer them. Click Here and we can set up a time to connect.
Note: I'm a Beautycounter consultant.  This means I earn a commission from the links to the product(s) in this post.  Commissions like these are how people like me can earn a living while recommending products we truly love and we think that you'll love too.  You can rest assured that I would never recommend a product just for financial gain.  If you end up loving Beautycounter, too & you'd like to find out more about becoming a consultant, get in touch with me.
april, books, event, favourite books, favourite podcasts, march, places, podcasts