Kitchen Breakthrough:   Busy  Mom  Sets  a  Healthy  Example  for  her  Daughters
I've been running the Real Food Reset for a year now so it's about time I shared a kitchen breakthrough of one of my clients. I would like to introduce you to Tanya, a mom of two young daughters. At the end of the program I asked Tanya 3 important reflection questions and she was gracious enough to let me share her answers with you.
1. Why did you sign-up for the 21 Day Real Food Reset?
I have been searching for a way to trim down for years and have tried many different programs.  As I now have 2 daughters, I want to set a healthy example for how to feed their bodies.  
My mother wasn't much of a cook and therefore never passed down this life skill.  My mission has changed.  I want to be able to teach my children how to cook healthy recipes and to be able to make informed decisions about what they are putting in their bodies.  As you stated this is a journey and I now have a lot of new tools in my belt. 
2. What did you learn during the program?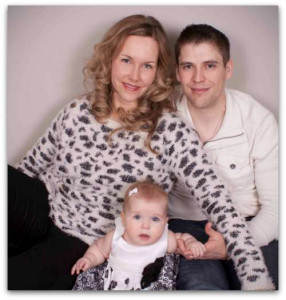 I learned to commit to the 1 hour of meal planning on the weekend.  The fall out from this was that I was able to grocery shop for the whole week in one go!  
My husband, Stephen, just remarked this week that he can't believe how well we've been doing with not throwing out leftovers.  
I also got a lot of yummy recipes that both my family and I have enjoyed!  We've had the salads, chicken curry, cranberry chicken, butter chicken, sausage with apple, quiche, and many more…. all a success!
3. What habits are you going to keep now that you've completed the program?
I will continue with the weekly meal plan.  I have learned I need to prep pretty much everything the night before while I have one baby in bed and while my husband can hold the other.
I also liked the recipes and will use most of them in the rotation. Loved the snack list! I will continue to use and reference it.  
Note: Tanya also shared with me that she was able to reach her pre-pregnancy weight 2 months postpartum! She was pretty excited to achieve one of her milestones on her journey to recover from 2 pregnancies.
If Tanya's kitchen breakthrough resonated with you, I invite you to join our next 21 Day Real Food Reset. We start on Monday, September 21st.  Click on the pink button below to get all the program details and to register.
P.S. If you still aren't sure this program is right for you, please give me a call (403-542-6880) or email me and I'd be happy to answer any questions you might have.