Comfort Food – Easy Butter Chicken in the Slow-Cooker Recipe
I love the creaminess and richness of butter chicken. My favourite butter chicken has a touch of heat and spice, just enough to make it warming. I know you are thinking, "what about all the fat?" Yes, this butter chicken recipe has fat in it but that's why it tastes sooo good. The fat comes from the ghee (clarified butter) and the coconut milk. Don't forget that fat is nourishing because it contains essential vitamins A, D, E and K. Fat also makes a meal satisfying. Repeat after me, "eating healthy fat is not going to make you fat." It's the sugar and processed food that will get you!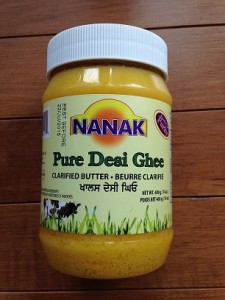 Okay, now that my public service announcement is over lets move on to this super easy recipe. I was inspired by this recipe for Primal Butter Chicken from mypaleocrockpot.blogspot.ca but I thought I could make it even simpler and more suited to my taste.
This is one of our staple winter recipes! It would be great for a potluck or a party.
Ghee should be part of your regular pantry items as it is easier to use than butter and does not smoke as easily when heated compared to butter.  Bonus: People with dairy intolerance can usually handle ghee because the lactose has been removed.
Have you tried ghee yet?  What is your favourite way to use it?

butter chicken, chicken, clarified butter, easy, ghee, recipe, slow cooker
Put all of the ingredients in to your slow-cooker and mix.

Cook on low for 7-8 hours or until the chicken is cooked thoroughly.

Serve with roasted cauliflower or rice.
*Ghee and garam masala are usually available at Superstore and ethnic grocery stores