My Coffee Addiction Solution – How I Gave Up My Morning Coffee Habit
I love the flavour of coffee and my favourite coffee drink is a strong Americano with some cream. I used to drink organic Swiss water decaffeinated coffee with coconut cream every morning. Delicious!
Is it possible to be addicted to decaf coffee? Speaking from experience, I would say definitely because I crave coffee every morning. If I didn't have a coffee first thing, it was all I could think about the entire morning.
You are probably thinking, what's the problem with drinking decaf coffee every morning?
FYI: Swiss water decaffeinated coffee has 99.9% of the caffeine removed using a filtration method that doesn't use any chemical solvents like regular decaffeinated coffee.

Coffee beans are also full antioxidants and linked to the prevention of Alzheimer's.
Sounds good, right? Only one small problem;  coffee promotes inflammation in your body.
How much inflammation are we talking about?
Nobody really knows for sure and it depends on how your body handles coffee.
I'm sure drinking a cup or two of coffee is no big deal if you are healthy and not suffering from any inflammatory diseases.
But… if there is away for me to submit my body to less inflammation, I'm all ears. Inflammation ages our bodies prematurely and that's not cool.
So what is this coffee addiction solution you ask? In my search for a tasty more nutrient dense alternative to my morning coffee I found this product called "Dandy Blend."
What is "Dandy Blend?"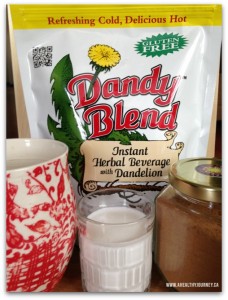 It's an instant herbal beverage powder made up of roasted barley, rye, chicory root, dandelion root and beet root extract. It's 100% caffeine free and gluten free. All of the gluten has been removed from the barley and rye through an extracting process.
How does it taste?
It's smooth with no bitterness but it doesn't taste exactly like coffee. It reminds me of coffee but it will never replace it. Don't get me wrong, it still tastes good.
Where do I get it and how much is it?
I picked this up from the Light Cellar and I've also seen this sold at Naturmend.  This coffee substitute should also be found at health food stores like Community Natural Foods.  It costs about $18 for the 100 cups bag (200 g). Click here for the Dandy Blend website. Note I'm not an affiliate of this product so I don't get paid to promote this.
To make it more nutritious and taste even better, I came up with this tasty energy drink recipe.
I no longer feel like I'm totally hooked on coffee. Most mornings you will find me sipping a Dandy Blend concoction or some Chai tea. I still indulge in coffee several times a week but it's no longer a daily habit. I'll brew some Kicking Horse organic decaf coffee at home or go out to a café for my beloved Americano.
Have you ever successfully given up your morning coffee? What did you replace it with? Please share your tips in the comment section below.

coffee, coffee replacement, creamy drink, Dandy Blend, herbal energy drink, recipe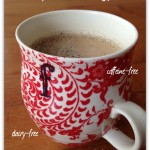 Healthy Coffee Substitute by Anastasia at ahealthyjourney.ca
Servings

Prep Time

1

mug

2

min. or less
Servings

Prep Time

1

mug

2

min. or less
Healthy Coffee Substitute by Anastasia at ahealthyjourney.ca

Servings

Prep Time

1

mug

2

min. or less

Servings

Prep Time

1

mug

2

min. or less
Put all of the powders into your mug.

Add hot water and some coconut milk until your mug is almost full.

For best results, mix with a small frothing wand to blend your energy drink until smooth and foamy.
Some people find maca powder a bit bitter so you may want to add a teaspoon of maple syrup to sweeten your drink. I like my drinks on the bitter side. I've also tried adding 1 teaspoon of raw cacao powder which makes it tastes more like a mocha (Fabulous!) drink.