My Favourite Nut-free Chocolate Cupcakes with Dairy-free Frosting Recipe
My little lion turned 2 last week. I debated over whether I should throw him a party or cut myself some slack since he doesn't understand the concept of birthdays.
I decided to give myself a break and skip the party but I still wanted to celebrate his special day. My son loves chocolate, (shocking I know) so I thought I would make some chocolate cupcakes with frosting.
Last year I bought cupcakes from a local gluten-free bakery for his birthday. They were gorgeous but kind of over the top sweet. I've never baked cupcakes before but I thought it would be fun to give it a try.
I'm more of a brownie or cookie kind of person. Okay, I love most baked goods but I've never been really into cupcakes plus the idea of frosting something to make it look pretty was kind of intimidating.
I'm all about keeping things simple but I decided to dive into the world of cupcakes and frosting anyway.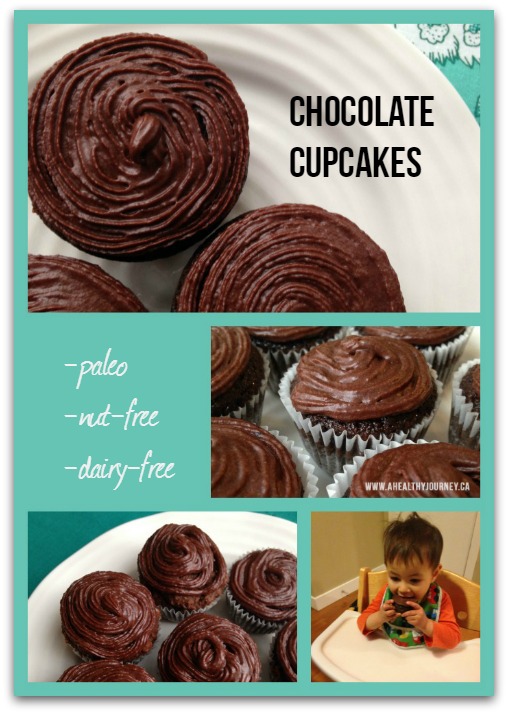 I always bake with gluten-free flours since adopting a paleo style of eating. My pantry contains almond, coconut and tapioca flour. These are all great flours for creating treats but they behave very differently and can't be substituted for each other.
If I had to pick a favourite, it would be almond flour because of the texture and flavour. Almond flour is a bit heavy and nuts can be hard to digest for many people. There is also the reality that many kid places like schools are nut-free these days.
I couldn't decide on what flour to use so I tried two different cupcake recipes, one with almond flour from liveinghealthywithchocolate.com and the other with coconut flour by elanaspantry.com.
I also selected the simplest dairy-free frosting recipe I could find. This was a big project for me so I wanted to make it as easy as possible.
The almond flour cupcakes were quite dense and looked more like muffins than cupcakes. I used no-name almond meal with is a bit coarser than the more expensive J.K Gourmet almond flour. This is probably why my cupcakes looked "rustic" but they still tasted fine.
The coconut flour cupcakes were lighter and had the texture of cake. A little bit of coconut flour goes a long way so it is cheaper to bake with than almond flour. The only catch is you need to use quite a few eggs in most baking recipes.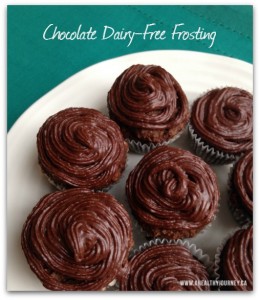 On to the frosting adventure.
I wanted a dairy-free frosting that could hold up for a day or two in the refrigerator so I chose to do a coconut oil based recipe that was sweetened with honey. I was inspired by Paleo Chocolate Frosting recipe from paleobaking.com. Delicious!
I made the icing in the food processor and piped in onto the cupcakes using a pastry bag. Next time I would use a Ziploc bag (just cut off the corner) with a frosting tip to save on clean-up time. Thanks to my friend, Whitney for that tip!
So which cupcake recipe was the winner?
It turned out to be a tie. I preferred the coconut flour cupcakes and my husband went with the almond flour ones. Leo has limited vocabulary so I'm not sure which one he liked best.
Here are the recipes I used in this birthday bake-off.
Coconut flour based (nut-free, dairy-free and gluten-free): http://elanaspantry.com/paleo-chocolate-cupcakes/
Almond flour based (dairy-free and gluten-free): http://livinghealthywithchocolate.com/desserts/coconut-cupcake-gluten-free-paleo-1624/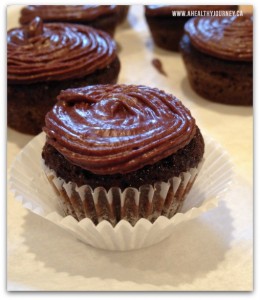 I would love to hear about your birthday baking and frosting adventures!
Do you leave it to the pros or do you embrace the messiness and make cakes and frosting from scratch?
Or are you in the middle and use boxed cake mixes and frosting from a can. Nothing reminds me more of childhood birthdays than Duncan Hines Frosting and Betty Crocker cake mixes!

chocolate, cupcakes, desserts, frosting, icing, recipe, treats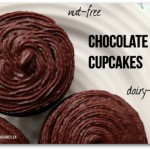 (Dairy-Free, Nut-Free) by Anastasia at ahealthyjourney.ca
Servings

Prep Time

30

mini cupcakes

5

min.
Servings

Prep Time

30

mini cupcakes

5

min.
(Dairy-Free, Nut-Free) by Anastasia at ahealthyjourney.ca

Servings

Prep Time

30

mini cupcakes

5

min.

Servings

Prep Time

30

mini cupcakes

5

min.
Put all of the ingredients in a food processor and blend until smooth.

Frost your chilled cupcakes or put the frosting in a pastry bag/Ziploc bag with a decorating tip and pipe the icing onto the cupcakes.
If the icing seems to runny chill it in the fridge to firm it up a bit but don't leave it too long or it will be too hard to work with. If his happens, just leave the icing on the counter to soften. Keep the frosted cupcakes in the fridge until you are ready to serve them or they will start melting.
This recipe was inspired by http://paleobakingcompany.com/pages/paleo-chocolate-frosting