Simple Slow Cooker Sweet and Saucy Chicken Cranberries Recipe (only 4 ingredients!)
I had some fresh cranberries in the fridge that needed to be used up and some chicken thighs thawing in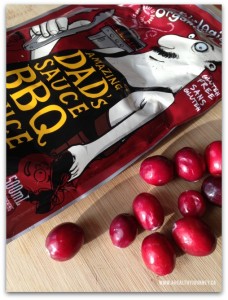 the fridge. I was feeling lazy so I pulled out my crock-pot and peered into my pantry. I found a package of BBQ sauce that I'd wanted to try.
Normally, I don't rely on pre-made sauces because they are typically full of sugar, preservatives and other funky ingredients. The ingredient list was pretty clean and I thought it would be a nice shortcut from having to make a sauce from scratch. The BBQ sauce contained honey so I thought it would be sweet enough to work with the fresh tart cranberries.
First, I threw in a pack of skinless boneless chicken thighs into the slow cooker. Then I poured in my cranberries and some BBQ sauce. It looked a little thick so I added some chicken stock to thin it out. That's it! I turned it on low and walked away for the day.
Several hours later the house smelled wonderful, like an indoor BBQ. So how did it taste? Amazing! The cranberries melted into the sauce. This is totally a cheater meal for when you are short on time or just want a break from cooking. Your family will devour this dish in no time!
Enjoy this amazingly simple Slow-Cooker Sweet & Saucy Chicken Cranberries Recipe:

BBQ sauce, chicken, chicken thighs, cranberries, recipe, slow cooker
Place all of the ingredients in to your slow cooker and give it a stir.

Cook on low for 6-7 hours or until the chicken is cooked.
Serve with rice or roasted cauliflower and a green vegetable like broccoli to balance out the meal.